DAVID BOON CHALLENGE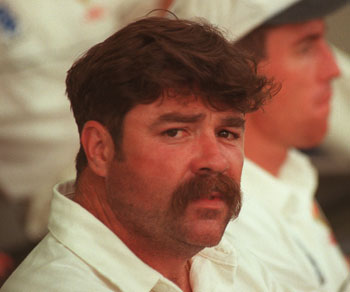 Die David Boon Challenge wurde vom Gründungsvater des Tegernseer Cricket Clubs, Wolfgang Albert, ins Leben gerufen. Es ist ein Turnier, das jedes Jahr im Münchner Raum stattfindet und an die legendäre 52 (not out) von David Boon erinnern soll.
Articles related to David Boon: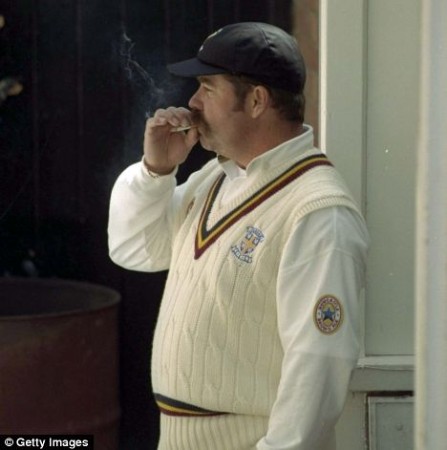 David Boon: Australian Legend
Pssst (supplement to The Age), p. 28, September 23, 2001.
Some would plump for Hudson and Pratt's 150 goals in a season, others would nominate Bradman's average of 99.94. But Pssst begs to differ. The most talked about statistic attributed to an Australian sportsman is David Boon's 52—that is, cans on the flight to London ahead of the 1989 Ashes series. So revered is the figure that it was once suggested that the Tasmanian speed limit be lowered to 52kmh as a tribute.
Adding to the legend is that the exact details of the 1989 flight have always remained slightly sketchy. Boon himself, writing in his autobiography, insisted that the whole episode never took place. In our quest for the definitive account, Pssst turned to an insider.
Former Victorian Test batsman Dean Jones was on that momentous tour, and, following his father Barney's advice, sat next to Boon on the plane (the idea being to glean as much advice as possible about what to expect on tours, how to approach county matches and the good oil on English pitches). What he learned was a lesson of a different kind.
"Boonie never set out with the intention of breaking the record, which, from memory, was 46 by Rod Marsh, beating the previous mark of 44 by Doug Walters," Jones said. "But not long into the flight, the Qantas staff advised us that they'd been keeping count, and Boonie was well on target."
Jones said that he decided to pull the pin by the time the plane left Singapore, but Boon was settling into a steady rhythm, having just peeled the top off can No. 23 (not including the three he had consumed at Sydney airport). At this point, Jones retired hurt to the upper level of the jumbo, curling up to sleep in a nook behind the seats of chairman of selectors Laurie Sawle and coach Bob Simpson. In his absence, a roster of players—including Carl Rackemann, Merv Hughes, Geoff Marsh and Tom Moody—slipped into the seat beside Boon to offer their support from the non-striker's end.
Eight hours later, Jones awoke to rousing cheers from downstairs: "Hearing all the boisterous applause, Bob Simpson thought someone had won a big card game and explained to Laurie Sawle that he'd collected a similar kitty while making the 1964 journey to England," Jones said. "Then the captain of the plane got on to the PA system and congratulated Boonie on his fantastic effort of breaking the record."
Jones remembers Simpson turning purple with anger, at which point Jones chipped in that should Boon be sent home, he would be prepared [to] bat at No. 3. "The flight attendants put the official count at 52, and the best part about it is that the guys were very well behaved throughout."
He said Marsh and Walters never acknowledged the record, arguing that Boon "had a couple while the plane was on the ground in Singapore. Against that, those other two blokes were carried off the plane, whereas Boonie kind of managed to walk."
Not as well known is what happened after Boon arrived in London. The Australians immediately headed to their hotel for a press conference, whereupon the Australian media, aware of what had unfolded on the flight, made a pledge not to ask Boon a question, praying that the English hacks would not get wind of a story. Having emerged unscathed, Boon next attended a sponsor's cocktail party, where he had another three pints, and then "did not wake up for 36 hours and missed two training sessions." Being Boon's roommate, Jones was informed by Simpson that "when David waked up he should come and have a quiet chat with me."
The story has it that the chat was not so quiet, with Boon fined $5000 and lucky to escape being sent home. "Then again," said Jones, "he went on to make more than 500 runs for the Test series averaging more than 70, and made over 1500 runs for the tour. All in all it was a magnificent achievement."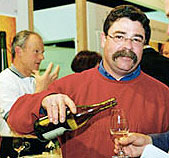 Drinking for Australia - David Boon 52 Not Out! by Fanatics
---
Reprinted from The Weekend Australian Magazine December 20-21, 2003 Written by Peter Lalor
All sports love a statistic but none more than the summer game. Numbers and averages are as important to cricket as bat and ball. Records stand like Himalayan peaks, pointed reminders to those in the foothills of the heights that others have climbed: Don Brandman's 99.94, Matthew Hayden's 380, Courtney Walsh's 519. Cricketers and cricket tragics know the significance of these numbers and the circumstances in which they were achieved. For many years, there was another figure that taunted Australian cricketers – Doug Walters's 44.
The score can be traced back to Australia's Caribbean tour of 1973. Ian Chappell's team had spent three months compiling a hard-fought two-nil series victory over the West Indes. Walters had had a fine summer, averaging 71 with the bat, knocking up two 100s and three 50s, and bagging 5-66 in one outing with the ball. The boy from Dungog was already a legend in Australian sport, as much for his love of ciggies, booze and horses as for his swashbuckling cricket. His mate Rod Marsh had also done well in the Tests, gloving 17 catches behind the stumps and averaging a healthy 49.5 with the bat.
The pair were looking forward to getting home, and while the flight wasn't particularly comfortable – players traveled economy in those days – at least the beer was free. Big drinkers both, they'd worked up a murderous thirst under the Caribbean sun. Walters remembers Marsh turning to him and asking "How many cans do you think we'll have before we get to Sydney.
"Thats where it all started", Walters recalls. "I said 'twenty-five'. He said "It's a 30 hour flight – we'll have 35". The pair set about testing this new method of measuring distance but encountered a serious problem. "They ran out of beer", Walters says. "We had to count spirits and all sorts of things and I don't know what the final tally was.
Still, a seed had been planted. Word passed around before the team left for the 1977 Ashes tour that the Walters-Marsh drinking experiment had escalated into a full-blown competition. Players, management and journalists were invited to join in. A quarter of a century later, memories are a little clouded by time and the passing of brain cells, but The Weekend Australian Magazine has interviewed many of the people who made the trip in an effort to sort fact from folklore.
Rules were drawn up, wagers were laid and the drinking began. Only alcohol consumed in-flight was counted, so anything sunk in the transit lounge was, effectively, a dead ball. Competitors scored one point for a beer, wine or mixed drink, although wine drinkers were looked upon with great suspicion by the egalitarian Australians. In fact, nobody remembers a wine drinker in the competition. The team was in a bullish mood, having beaten the Poms in the Centenary Test three months earlier, while the game itself was about to be shaken by the rise of World Series Cricket and would soon need a stiff drink of its own.
Leg spinner Kerry O'Keeffe, now an ABC commentator, incorporates the story into his public speaking routines. He says bets were taken on everyone except one team manager. "You were allowed to back yourself, but he drank 24 hours a day and nobody accepted his wager on himself," O'Keeffe recalls. While he is shaky on some details, he does remember that the field was well spread even on the first leg. "Kim Hughes was a runaway leader early. He'd had six spirits when most of us were on three cans of beer, but shall we say he didn't stay the course." Walters, playing tortoise to the young hare, also recalls the baby-faced West Australian batsman stealing a break. "I remember Kim being involved and he said 'does it have to be beer?' and I said 'you can drink whatever you like', and he drank rum and something – not rum and Coke, but rum and ginger or something like that. But he'd had quite a heap to Singapore and I don't think he had another drink for three weeks on that tour."
Hughes, just 19 at the time, admits with good humour that he might have misjudged his run. "I was a young bull in those days. It was my first major tour away for the team and I didn't see Singapore because I got out of the gates early and got my total to 11 or 12 brandy and dries, and collapsed in a heap. You got a point for a full beer or the spirits in the little bottles. I was never a beer drinker so I started with a little suggestion of brandy and a fair bit of dry, and pretty quickly it was all brandy and no dry, and that was why I didn't see Singapore. But I was leading the pack by a substantial amount for a very short period of time."
Hughes regained consciousness while approaching England to find he was not the only casualty. "I suppose I shouldn't mention his name because it wasn't very flattering and he was an older bloke," the future captain recalls. "He was about 60 and had his blazer on, but he was on the aisle seat and he was asleep and he had his false teeth hanging out with saliva dripping out from the teeth onto the emblem on his pocket. Mate, it wasn't a great sight." It was a member of the management – the one they wouldn't let bet on himself.
Greg Chappell, Australia's straight-backed captain, tries to downplay the competition as "a bit of fun that has probably been blown out of proportion over the years." The health-conscious vegetarian admits he "had a few" until Singapore but then decided, wisely, to sleep. Walters and Marsh kept drinking and drinking. And drinking.
This was another time, of course – long before the team had fitness advisers or dietary consultants, an epoch of hairy chests and walrus moustaches permanently wet with beer. Neither the players, airline staff nor the general public had heard the words "responsible service of alcohol", and it is a measure of just how far in-flight service has slipped that no player can recall a problem with getting a drink. "You wouldn't get that service on a plane now," Walters laughs. "Then, every time they walked past Marshy and I they dropped four cans on our thing (service tray). They were probably the instigators more so than us."
O'Keeffe waved the white flat at Bahrain, realizing he could not keep up with Marsh or Walters. "Doug dropped back in the pack, knowing he could go the journey," O'Keeffe says. "He just ground them down", Walters confirms this tactic, "I'm a sipper", he says. "I can sip all day and it doesn't have a great effect, but I can't put em down at a hundred miles an hour. I'm not a fast drinker." He does, however, admit to being a "reasonably" bit drinker.
As the plane arrived in London, Walters raised his 44th can to his lips and drained it as thought it were his fourth. From all accounts, he wasn't in bad shape – not if you consider he'd had 44 beers at high altitude and a couple of unofficial palate cleansers during the stopovers. "He was all right – just" says O'Keeffe. "He was lighting cigarettes filter-first. I guess that's all right. You can do that sober."
Marsh's score is a mystery. Dennis Lillee, who had injured his back in the Centenary Test and was not on that tour, recalls the wicketkeeper claiming he had gone can-for-can with Walters. Sadly for Marsh, no-one recognizes his efforts, and it was Walters – the boy burdened in 1965 with the mantle "the next Don Brandman" – who claimed a title that has defined his years in cricket more than any particular innings or series. Even now he is asked more about the 44 cans than his famous 100 at Perth, a ton notched up in a single session and crowned with a six off the last ball. "If it's not the first question I'm asked, it's the second," Walters says. Does it bother him? "Not really. I enjoy life, mate. I think you're dead a long while – that's what I was told and I haven't seen any proof of that not being right."
Of course, no in-flight drinking record is complete without a successful re-entry. All witnesses report that Walters and company were drunk, but did not disgrace themselves. "We visited the bar when we arrived, I think," ways Walters. "We had a press reception at the hotel when we arrived there." They did, and memories of the Australians' performance vary widely. "I've got to say that the press conference, with Fleet Street hovering, was pathetic," says Okeeffe. "It was not the best press conference held, not with the inebriation that was around, but they didn't pick up on it too much."
Veteran cricket writer Alan Shiell, who thinks he tallied 38 cans on the flight, recalls arriving in London. "I know Marshy and Doug were pretty much the worse for wear at the press conference at the Waldorf late that morning. We had some big nights on that trip – you're talking about some exceptional characters and some exceptional drinkers in Marshy and Dougie."
Hughes remembers arriving. "I had sobered up and we were being introduced at the Waldorf and everyone was pretty excited, but we had to hide Walters and Marsh because they had just kept going. We could hear during the introductions 'Hear hear, Chappell', and it was Marsh and Walters up the back, still having a quiet beer. We tried to keep them quiet, but they made the odd noise."
And how did Walters perform on tour? "1977? It was my worst. Oh, not it wasn't – '72 was my worst. Well, I didn't have any real good tours of England anyway."
Well, none that he remembers. In fact, Walters managed a half-century in each of the first two Tests but came away with an average of only 25, and the Australians flew home with tails between their legs having been thumped three-nil. Kim Hughes debuted in the final Test but made only one run.
CRICKET IS A SLOW GAME THAT REWARDS PATIENCE, and so it was that Rodney Marsh returned to Australian nurturing a grudge, but knowing that his time would come. He was six years waiting. The 'keeper has kept his silence on the 1983 flight to London, but his good mate Lillee has recorded it – twice – in his auto-biographies. In 1984's Over and Out, Lillee says that 'second best was not good enough for Rodney', who announced to his team-mates well before they left for the World Cup that he was going to beat 44.
Surprisingly, the fast bowler decided to sabotage the attempt. "I didn't want him watching the World Cup series on television in the drying-out ward of some London hospital." Lillee writes. Rather than try to convince Marsh of the benefits of moderation, Lillee used the wiles that made him a great bowler long after his pace had left him. He started egging on Marsh to drink before they left Perth to join the team in Sydney. They stopped off in Melbourne for a few more at a Qantas cocktail party, then flew north and hit the town. Lillee sacrified his own health to save his mate's and despite a roaring hangover he pushed Marsh to have three shaky schooners at the airport the next morning. But it wasn't enough to stop the determined Sandgroper.
The Australian cricket team had taken on a more professional air by 1983 and a lot of planning went into the record attempt. Somebody worked out that it was a 24-hour flight with three legs – Sydney-Singapore, Singapore-Bahrain, Bahrain-London. Marsh would have to consume 15 cans a leg. Lillee didn't think Marsh had a hope, but the little wicketkeeper hopped into it, warning the hostess of his intentions the moment he sat down. "You drink them, I'll bring them," she reportedly replied.
Fast bowler Geoff Lawson was part of the team despite the fact he did not drink. "I have a fairly clear recollection about it," he says. "The announcement was made before we got to the airport. I was the official scorer. I wrote down the brand and the size on the back of a sick bag." Lawson confirms Marsh had three at Sydney airport. "He said that you warm up before you play, so you've got to warm up before one of these things, and he had a couple more in Singapore and they weren't counted either." Lawson has another remarkable revelation: "Marshy slept from Singapore to Bahrain – he slept the whole leg."
Lillee contradicts this and says it was he who slept from Singapore to Bahrain, "and to my horror I awoke to find Rodney draining the drops of can No. 30." The fast bowler says Graeme Wood was the official scorer and Marsh slept only during the stopover. Wood confirms he was the scorer, perhaps with help from Lawson, and says Marsh kept drinking throughout the flight except for two 20-minute naps. Lawson remembers that, to make the trip more comfortable, the pace-setters and the scorer moved from their seats. "In '83 – I'm pretty sure it was '83 – we actually went downstairs in the plane. We got in the service lift and went down into the cargo hold. I can distinctly remember Rod drinking there. It was like a storeroom and we were surrounded by beer, and you just had to reach out and grab 'em from the shelf, basically I remember because the roof of it was six foot tall and, with me being six foot four (198cm), I couldn't quite stand up.
By this stage, the whole plane was aware of what was happening courtesy of an announcement by the captain – a point confirmed by Lawson and Lillee, although everybody is keen to point out that this was "a quiet drink" between mates. "It wasn't a big deal," says Lawson. "I think if anything had got out of control, a lot of people would have disapproved, but it never did, you know. There was no rowdiness or anything. It was just a quiet drink and a chat, you know."
Marsh's 43rd beer coincided with the plane banking on its approach to London. "I swear to this day I could see beer about to spill over his bottom teeth onto the floor," Lillee records. The 'keeper drained his 43rd and sipped painfully at his 44th, equaling the Walters record. Then he gurgled a surprising announcement: "I can't make it." This was a time for mates to stand together. Lillee remembers them giving Marsh a word of encouragement – "Bullshit!"
"The challenge had by now assumed the significance of winning an Ashes series," Lillee writes. "There would be no capitulation. We tilted Rodney's head back and literally force-fed him." And so the bar was raised, but not without some difficulties. Lillee says Marsh was "History. Drunk as a monkey. Full as a fowl." The fast bowler and Wood had to put him in team uniform and load him on to a luggage trolley to get him to customs. Wood says Marsh wisely gave the press conference a wide berth. Photographs taken at the airport appeared in the next day's papers with the headline, according to Lillee: "Marsh attempts record…and takes two of his mates with him." The bowler felt cheated – he hadn't had a beer since Singapore. Marsh complained of terrible jetlag and did not front for training the next day.
Lawson says Marsh and Walters were big drinkers who never disgraced themselves. "I've known Doug Walters and Rod Marsh a long time, and I've seen them at all hours of the day and night, and I've rarely seen them pissed, despite their reputations as drinkers. They just didn't get pissed – it was that simple. Apart from Rod being pissed after the 45th one, I don't recall ever seeing those guys pissed, and they drank a lot of beer. And it didn't affect their cricket either." Well, nobody is blaming the drink, but Australia were terrible in the World Cup, losing their first game to Zimbabwe, their second to the West Indes and fourth to India. They came home boasting one win, which was against Zimbabwe in the return match of the pool.
AND SO THE INFAMOUS TWILIGHT ZONE FLIGHT of 1989 and a record many say will never be beaten. The mystery arises from the fact that the holder of the title denies the attempt took place. The Australian team was led by the earnest Allan Border, known to his charges as Captain Grumpy, with the fanatical Bob Simpson at his right hand. Simmo, who introduced the modern obsession with fitness to the Australian team, was not the sort of fellow who would look kindly on beer drinking competitions. Nor could the team be especially confident about the tour. It had been beaten 3-1 at home by the West Indes over summer and lost the previous two Ashes series, earning itself a reputation as the "worst team ever" to tour the old country. Perhaps that's why they decided to get in early – to put a trophy on the shelf before a ball was bowled in anger.
Whatever the reason, it is claimed in certain circles that David Boon, the nuggetty Tasmanian opener with a similar physique to Rod Marsh, set out with the intention of breaking 45 cans. Boon refuses to confirm this, "Never spoke about it, never will." He tells The Weekend Australian Magazine. Maybe it was a mass hallucination, but some people on that flight recall a man who looked like Boon drinking a lot of beer.
Lawson says he was scoring, and in this case nobody begs to differ. He also remembers a different tone to the Boon assault. "Nobody accompanied Boonie," he sayd. "We were all a bit more sensible. There weren't too many big drinkers in the team then. I think the culture of the '70s changed through the '80s."
There were in fact three or four others involved, but more in a spirit of companionship than competition. Mark Taylor, a captain in the making, says he had "a few beers with them along the way" but was that there at the end. "I enjoy a beer, there's no doubt about that, but I don't think I can drink anywhere near that much." Victorian fast bowler Merv Hughes is initially reluctant to talk. "I won't mention any names," he says eventually, confirming he was among the party of four or five who retired to the galley while the rest of the plane slept.
It is the Victorian batsman Dean Jones who speaks most candidly about the 1989 flight. It was Jones's first tour and his father had advised him to sit next to the opener to pick up hints on batting in England, "Boonie had plenty of advice for me as we had just left Singapore and we had just finished our 22nd can of beer." Jones writes for the Australian Paper Web site. He went upstairs and fell asleep, waking later to "tumultuous" applause. Simpson thought somebody had won a card game until the plane's captain announced Boon had consumed 52 beers. "Simpson went purple with anger and I mentioned to (selector Laurie) Sawle that maybe Boonie should be sent home and I would bat in his spot," Jones recalls.
It's a record Boon has never claimed, but Lawson confirms the score and says with great regret that he wishes he had rescued the sick bags from the plane. "They would have been worth a fortune," he laments. "You can imagine Tony Greig selling replicas of them summer after summer after summer."
Lawson and Jones say Boon walked from the plane unaided. Mercifully, Boon was not asked a question at the press conference. Taylor recalls Simpson getting stuck into the team about the flight. "When we got off the bus, Boonie was in quite a bit of trouble with Simmo, who was disappointed with him for drinking so much, and he called us into a team meeting and said. 'Righto, a couple of things: David, I'm very disappointed with you and you're on probation, but also I don't want this story to leave this room. It's not to leave the Australian cricket team." And Merv Hughes at the back put his hand up and said. 'Oh, Bob, I'm sorry mate, I've done radio interviews with…' and he named four or five stations he'd done interviews with, and said, 'Mate, it's all over the world.' Everyone started laughing and I think Merv got put on probation along with Boonie."
Hughes confirms the incident, with variations. "I told a radio station I worked for that we had already knocked up the first 50 of the tour," he says. "I got into more trouble than the protagonist. I was shitting myself that I would be sent home – it was my first tour and I was on my last chance the moment we reached the first hotel."
Jones went to bed to sleep off his hangover but was called to the foyer by the concierge, who asked him to pick up his sleeping room-mate, Boon, who went on to average 55 on that tour. Australia reclaimed the Ashes and has not relinquished them since. Nor, despite many a bold attempt, has anybody managed to beat Boon's 52.
Over the years the odd non-cricketer has attempted to break the record. There have been unconfirmed reports that former Olympic swimmer Neil Brooks beat it. Nothing has been verified. On the recent Kangaroos tour several rugby league players attempted it but fell pathetically short; Sydney Rooster Mick Croker top-scored with 36 cans. The victorious English World Cup rugby squad is also rumoured to have had a crack, with hulking centre Mike Tindall coming close to 50 cans. "You can rest assured David Boon's record is still standing,"Tindall's centre partner, Will Greenwood, said later. "Tinds had a real go at it but we wanted to leave the Aussies with at least one title to hand on to."